Business & Administration
There is a business and administration element to every employment sector, including education, energy, engineering, charities, finance, manufacturing, tourism, health, entertainment, the law, leisure, education and local and national government.
This flexible Apprenticeship is perfect if you are not sure which area of business you want to get into. Available at Intermediate and Advanced level, it is designed to teach you a range of skills including using Microsoft packages, communicating with a range of customers and colleagues, arranging meetings, making phone calls and producing documents.
Administrators handle the day-to-day tasks in an office and make sure things run smoothly. This sort of work requires a strong sense of responsibility, accuracy and attention to detail.
This covers roles that involve organising people and resources such as:
Secretaries
Administration Assistants
Data Entry Clerks
Office Juniors
Project co-ordinators
Executive Personal Assistants
NVQ Diploma Overview
There are no formal entry requirements but you'll need to have a basic level of English and Maths. We'll do our best to place you in an appropriate role, that's if you're not already employed in a business administration setting.
Want to find out more?
Business & Admin Level 2.pdf
Business & Admin Level 3.pdf
Congratulations go to …
A former student of the University Academy Holbeach who chose to continue his studies with us by undertaking an Intermediate Apprenticeship in Business and Administration was named Apprentice of the Year for 2014 at the South Holland Business Awards.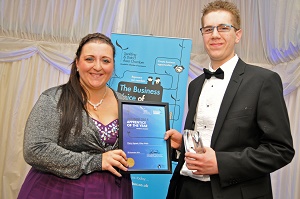 Harry Mynott has proved his worth with employers Kirby and Wells having successfully completed his apprenticeship and he is now looking forward to a long and happy career with the company.
After the Apprenticeship?
Well, the aim of course is to secure a permanent job at the end of your apprenticeship but by completing the qualification you will also develop the skills that will allow you to:
Communicate effectively
Accept responsibility for your own work and its delivery
Improve your own performance
Behave in a way that encourages efficient working
These are all transferable skills that are in high demand with employers, by achieving a L3 NVQ Diploma in Business Administration you are reassuring employers of your capabilities and that you have demonstrated that competence over time. Ideally you will be looking to move into a position of increased responsibility, e.g. a more supervisory or managerial role.
Furthermore, after completing Level 3 you may wish to progress on to a Level 4 NVQ or study a Foundation degree, the opportunities are there for the taking!
Contact Us To Find Out More
Please contact the Apprenticeship Department for further information on 01406 423042 ext. 327 or email apprenticeships@uah.org.uk