Ploughing Opportunity for Adam
A July ploughing match, on Jack Buck Farms at Moulton Seas End, offered one of our Year 8 pupils his first opportunity to try his hand at ploughing.
A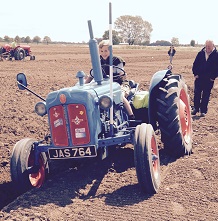 dam Cornwell was delighted to be allowed to drive a vintage Fordson Major tractor owned by Mr F Lee. Outside of the usual competition many other vintage tractor owners were putting their cherished machines through their paces on the field ploughing un-competitively.
The Academy is lucky to be situated in a thriving agricultural community which offers great opportunities for outdoor careers. Adam thoroughly enjoyed his time ploughing and is sure to be there next year to try it out again if he can!